Our Harrods Collection
Following the exciting launch of our concession in Harrods, our creative director, Jana Durisova, explains why the world-renowned, luxury department store is the perfect location to showcase Beaumont & Fletcher's hand-crafted British furniture, bespoke embroidered cushions and fabrics, and ornate mirrors. She also tells us about the collection on show in Harrods and shares her vision for the future.
A TRULY ICONIC BRAND PARTNERSHIP
We are immensely proud of our heritage and reputation for quality and as we mark 30 years of excellence, we are looking to the future to create the next chapters of our story.
When we opened our Chelsea showroom in 1998, we wanted a residence that welcomed our customers and had the space and light to showcase our beautiful interiors collection.  It continues to serve us well and is the beating heart of our business, but we recognised the need for another space to bring to life our stylish interiors and introduce more people to the elegance and luxury of our brand.
We set out to find a partner that shared our values. A partner world-renowned for luxury furniture and interiors. And we believe we have found the perfect partner in Harrods, a truly iconic luxury brand.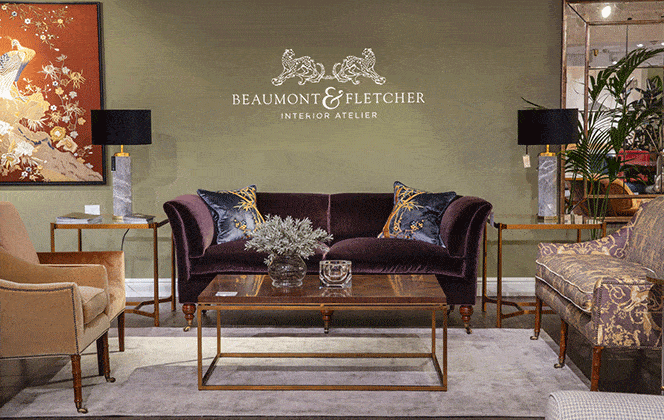 A NEW LOCATION FOR OUR LUXURY INTERIORS
Our exciting location in the furniture department on the third floor of Harrods provides us with a wonderful new second home.
The stunning space allows us to display a wider range of our beautiful, comfortable and elegant collections, be it our gorgeously hand-embroidered cushions and panels or our iconic Pompadour sofa with its clean, unfussy lines and deep, soft cushions.
The Pompadour sofa, built in Britain by master craftsmen using time-honoured techniques, continues to be one of our best-selling pieces since it was first launched 25 years ago, and is a focal point in the collection.
You'll also find a unique mix of more traditional sofa shapes paired with vibrant modern colours and textures, which sit comfortably in both traditional and contemporary homes; the collection displays designs to suit every style and size of room.
The striking Edgar sofa in Emerald silk velvet is my personal favourite. The shape is modern, yet it shows off the traditional skills of our workshop. Beside the fabulous colour of the silk velvet, I love the detail of the leather piping and nailing; It gives a very elegant definition to the shape of the sofa.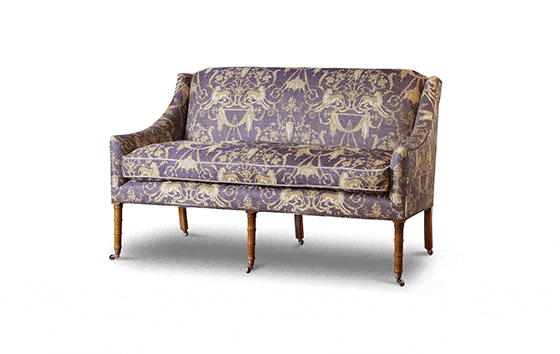 OUR VISION FOR THE FUTURE
Having celebrated 30 years of the finest British craftsmanship in exquisite couture fabrics, handmade furniture, embroideries and accessories we are thrilled to have opened our doors in Harrods. It is the next step in our journey creating beautifully crafted, timeless pieces for our clients – for now and for the future.
We will continue to support the traditional skills of our workshops and the master craftsmen and women who skilfully and lovingly create future heirlooms to be passed from generation to generation.  And our partnership with Harrods will allow even more people to experience the ultimate in comfort, luxury and elegance our brand has become famous for.