concept
Our starting point is to utilise our own extensive archive – here at Beaumont & Fletcher we've collated over thirty years a vast library of beautiful samples and drawings which we frequently draw on for our own designs.  We are not a team that stands still, and when we're not researching and developing from our in-house documents – we're seeking out inspiration for new and bespoke designs.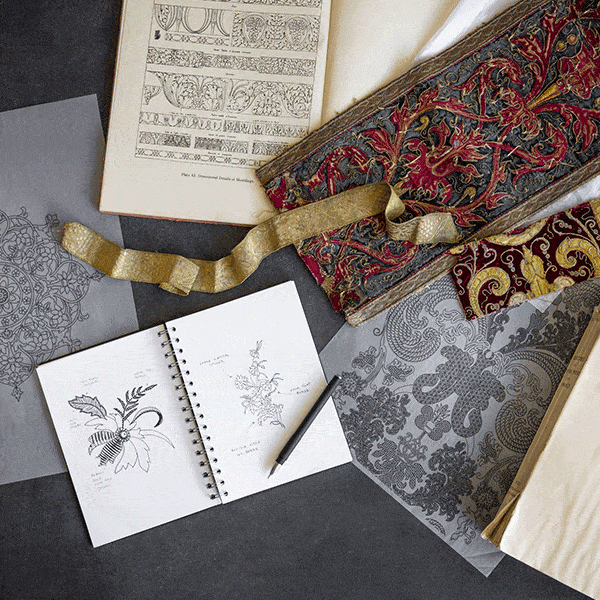 sampling
Sampling is a critical stage of our bespoke embroidery.
We will meticulously choose materials, colours and techniques that complement each other and suit the pattern and the proportions. We will identify which type of stitch and bead work will bring the concept to life and give it that stunning three-dimensional quality.
Expectations are not only that they look exquisite and reflect the design perfectly but are also strong enough to fit their purpose.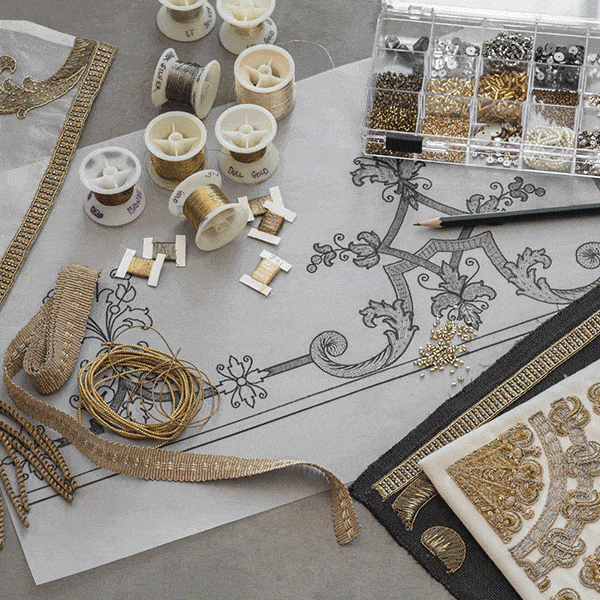 layouts
The final concept will be visualised in a specially commissioned line drawings – where we have the opportunity to reveal the finished design before it's made into reality.
Unlike fabrics that come on a roll, we embroider our fabrics on panels of specific width and height, customised in size and scale to fit curtains, wall panelling or upholstery. With curtains, because we want the embroidery to look so effortlessly flawless we join the fabric – prior to the embroidery – then embroider over the seams.
We work directly with the curtain makers and upholsterer on the final layout to make sure precision of pattern placement.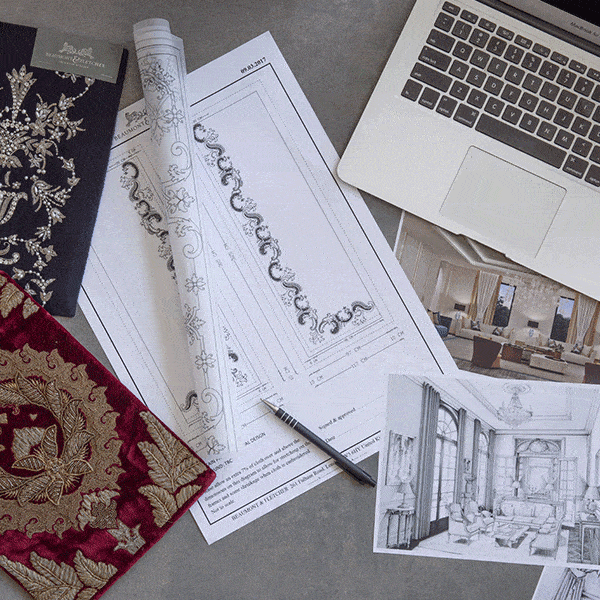 production
When all details are finalised and agreed on, we take the final stage from both paper and sampling to a three dimensional finished piece, making sure that every single stitch, bead and seam is flawless.
We can oversee making up the design onto the panel, curtain or tieback ensuring its standard of excellence and are delighted to be there for installation. When it's finally ready to be placed into the home it was created for – we can be there to guarantee perfection.
Every piece of bespoke design has its own story – a providence that makes it not just unique but truly spellbinding – and that is what we promise to deliver with every commission.