Country House
Benji Lewis is an interior designer with an infectious passion for period furniture and furnishings and an enviable talent for mixing colours and patterns.
His work has taken him from Arts and Crafts houses in the Home Counties, to contemporary London properties and across the sea to France – where, as a fluent French speaker, he's at his happiest. Amongst his live projects is an 18th century chateau that he's bringing back to life and his own delightful French country house. Benji's houses have featured in The World of Interiors, House & Garden and ELLE Décor France. We asked him what makes a quintessentially English country house.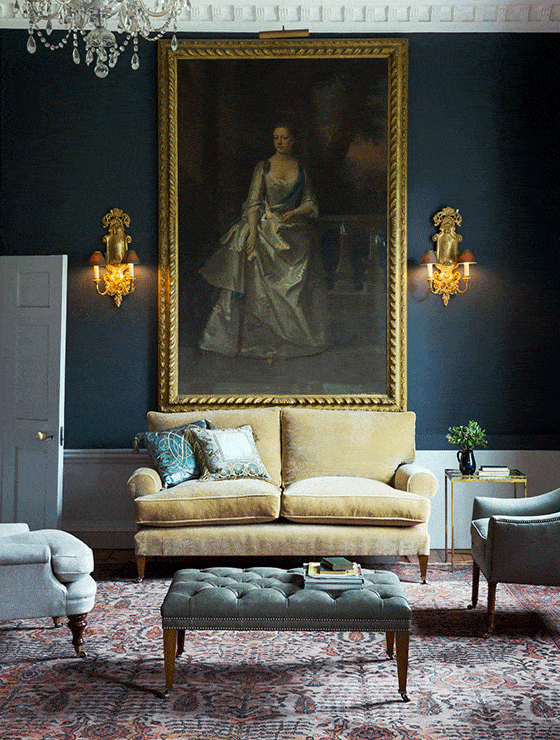 What is it that encapsulates the epitome of a country house interior for you?
An interior isn't just about the visual, it's way more than that.  It's really about encapsulating an all round feeling of comfort and very great contentment.  It's irrelevant whether you're living in an old stately pile or a new build, the feeling must surely be the same – that you're thrilled to be there, so for me it's pretty simple –  A country house style needs to be comfortable and elegant – a truly welcoming retreat.
How do you make it personal for your client? 
By listening to them and suggesting that instead of rejecting beloved existing possessions to replace with new, that we surely re-use what we can, wherever possible.  I love adapting my thought process to accommodate taste.  We have to have a degree of open mindedness as interior designers otherwise you stand to place your client in a home that's alien to them and that they therefore might feel uncomfortable in.
What has been your most favourite piece that you've discovered for a country house? 
Oh, so many!  I remember the first time I flopped into an old Howard sofa however; the utter joy, the feeling of 'arms around you' comfort. I'm afraid it started what's been a lifelong passion for proper upholstery – my one stipulation when I'm decorating for a client, is please – as much as budget will allow – can we allow for decent seating.  An errant upholstery spring or being plonked on a seat pad made of ancient cheap foam is borderline unforgiveable!
Do you have a favourite designer (past or present!) that inspires you? 
Yes, lots.  I don't think I've ever seen a Robert Kime interior and been disappointed – he's brilliant.  I'm immensely fond of the notion of post war transatlantic glamour too however – don't we deserve it with our rotten British winters – and have a particular love of anything by Billy Baldwin.  So, so chic.
If you had to pick the three most fundamental elements that make a country house interior –what would they be? 
Comfort, extravagance – it's vital that an interior should be interesting – and decent electrics (lighting and audiovisuals) – it has to WORK!
We asked Benji to select his favourite pieces from our collection that captures the spirit of the Country House aesthetic.
CUSHION
I would choose the Calista.  Cushions should always feel like an extravagance; this one does that and way more.  Firstly, I love a rectangular cushion, so often overlooked but so good at creating interest.  The Calista is the epitome of luxury – the velvet, the embroidery, the fringe, the opulence, the glamour which conjures a sense of old world exotic grandeur.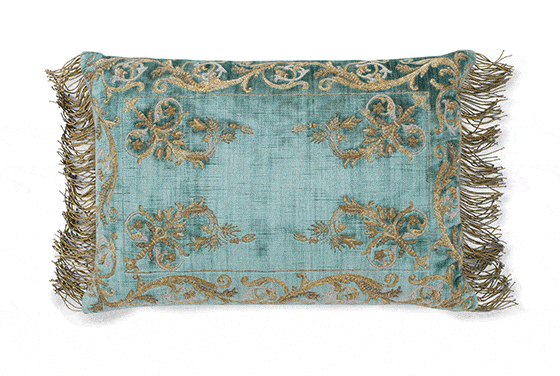 FABRIC
A floral, it would have to be floral.  Nothing evokes 'country house chic' more than a beautiful floral design.  I would opt for Cathay printed silk, made up as curtains or cushions, with fringe clearly.  That'd make me terribly happy!
FURNITURE
Surely it would be a sofa, and therein lies a 'spoilt for choice' issue.  I would opt for something that didn't have large scrolled arms because I don't live in a big house and need to be mindful of space.  I also like a sofa to multi-task, in the sense that it must look dressy when required but be super comfy for a rainy night in front of the television.  I love a loose seat pad and a fixed back; I find the process of re-plumping cushions after they've been sat on therapeutic.  I'm opting therefore for an Emily sofa; given that Beaumont & Fletcher offer the possibility of doing so, I would add 5cm to the seat depth but this sofa's a real looker.  Dressy and comfortable, the deep button back detail provides a sense of embellishment that's so relevant for my kind of country house interior.
LIGHT
The Devon wall light.  I love this because the wheatsheaf design is more modest than the others.  It's also more adaptable for my enjoyment of mid -century interiors plus the mirror detail offers glimpses of reflected light.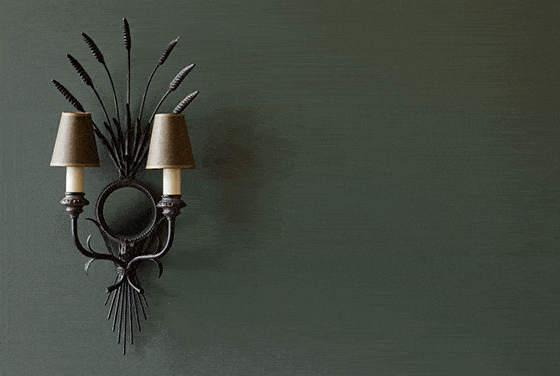 MIRROR
The Rococo mirror because it's so splendid!  I would find a space in my home to fit this in, even though I live in a small house with low ceilings.  I'd hang it solo on a blank wall and just admire it as a piece of artwork.